Fresh tomato and pasta salad with a basil pesto dressing
October 17, 2011 in Pasta, Salad
Every time I do a blog post about a salad I think that it's a bit silly giving a recipe for a salad, it's just chop this, chop that, a little olive oil, a little vinegar, and there you go, but every time I am surprised at the response I get, maybe it's just that people don't expect me to make salad, or maybe people really like salad, so here we go, fresh tomato and pasta salad with a basil pesto dressing.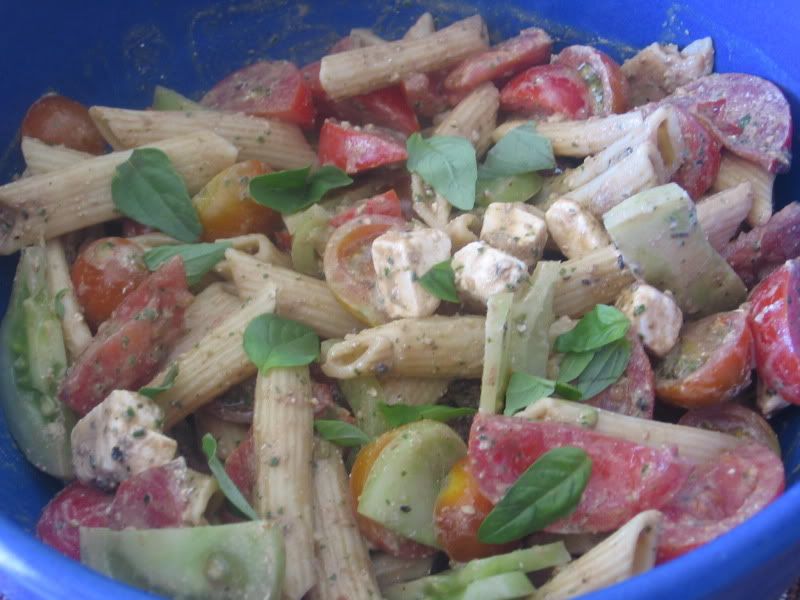 You will need:
300g various shapes and sizes (and colours) of tomatoes
1 Tbls basil pesto
5 Tbls Olive oil
3 Tbls Balsamic or white wine vinegar, I like the sweeter balsamic vinegar, but wine vinegar also works well.
150g cooked pasta
100g Feta
15 Fresh basil leaves
Salt
Pepper
Method:
Cut the tomatoes in different sizes, e.g. cut the cherry tomatoes in half, cut smaller normal tomatoes in wedges, cut green or yellow tomatoes in slices etc. Add the tomatoes to a salad dish and flavour with salt and pepper and add the pasta and feta cheese. Mix the pesto, olive oil and vinegar together and add to the tomatoes and pasta, mix through, if it is too thick add a little olive oil and vinegar.
Garnish with a couple of fresh basil leaves.
Enjoy as a nice light summer lunch or as a side dish, pour yourself a glass of rosé and enjoy summer.
Bon appetite
Potjie